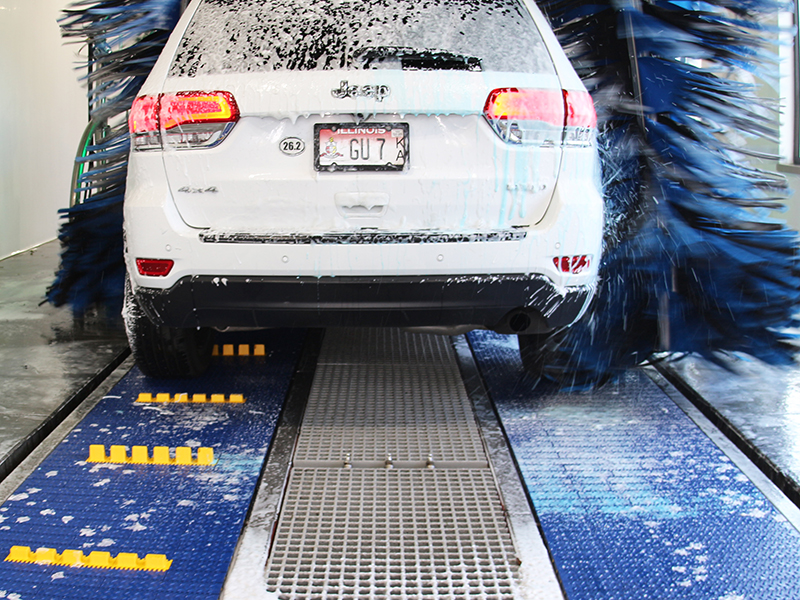 The Italian industry pushes forward
T'S NO ACCIDENT that Italy is synonymous with the sweetest parts of life, or as Italians put it, "la dolce vita." As a people, Italians take great pride in all the things tourists flock to the boot-shaped country for: the delicious food, awe-inspiring art and carefully crafted luxury goods. When it comes to automobiles, that pride is just as strong. Brands like Maserati, Lamborghini and Ferrari earned Italy a reputation as a country of stylish cars. While, in reality, most cannot afford these automobiles, Italians still want their cars to be as cool, and as clean, as possible. Consequently, the country's unique car wash industry has been steadily developing for decades, keeping Italians looking cool behind the wheel.
According to data collected by the Italian car wash association Federlavaggi, the Mediterranean country boasted 11,500 car washes in 2012. At first glance, this may seem small compared to the U.S.'s 80,500 locations. However, given Italy's relative land mass — the country is roughly the size of Georgia and Florida combined — its industry is fairly robust. In fact, it is the second-largest car wash industry in Western Europe (Germany being the largest with 18,300 locations). This comes as no surprise considering that WardsAuto, a research organization for the global auto industry, has ranked Italy as second in the world in vehicle-to-person ratio, with one car for every 1.45 people. What country came in first? The U.S., with one car for every 1.3 people.
CONSUMER COMPARISON
Clearly, these statistics demonstrate that Americans and Italians share an appreciation for cars and their care. Other than this, however, the two industries are quite different. In the U.S., the market is divided fairly evenly between the three types of car wash: self-service, roll-over and tunnel operations. In Italy, though, there are few conveyorized tunnels. According to Willy Vidakovich, general manager of AVW Equipment Co., which recently installed one of Italy's few tunnels, the tunnel (conveyor) car wash market really trails the in-bay automatic sector in Italy. The Italian consumer, he explained, may feel that traditional manual cleaning provides a superior wash than tunnels.
Enrico Mariotto, owner of Starwash srl, the Italian distributor of the global car wash manufacturer Washworld, Inc., had another explanation for the relative lack of tunnels: "In Italy, the market is mainly concentrated on self-service and roll-overs due to the high cost of management of the tunnels. Apart from the most important and profitable installations, the high cost of the workers needed to run tunnels leads to much lower revenues, and the fiscal management of self-service washes is much simpler."
Secondly, Mariotto went on to explain, oil companies have installed thousands of self-service car washes at their own retail locations. These washes are available 24/ 7, a valuable perk that tunnels can't offer.
Giovanni Favagrossa, an executive with the Italian company Favagrossa (the world's largest supplier of car wash brushes), agreed that the Italian consumer is hungry for convenience and efficiency. He said most of Italy's car washes are self-service and operate 24 hours a day because Italians want to wash at whatever hour is convenient for them "without losing too much time." Italian car washes, Favagrossa explained, are particularly busy at night.
Marco Mattioli, CEO of the Italian car wash product company MA-FRA, explained another Italian characteristic that he believes will shape the industry in the future: "The average Italian customer mainly prefers comfort, and therefore would prefer an assisted car wash to a self-service one. This consumer behavior pattern is the same for the fuel distribution market. The Italian customer prefers the stations with operators to self-service ones."
IS CHANGE ON THE HORIZON?
Despite the country's current high number of roll-overs and self-service operations, Vidakovich believes that a transition toward tunnels is on Italy's horizon. While he's not sure how long it will take, he believes the delay is due to the economy. "There's always risk involved and a new concept has to be proven somewhere. The economy is stronger in the North, so the model is going to prove itself faster there." Vidakovich estimated that once it's proven, it may take five or 10 years to take hold.
Case and point: eWash, one of the few Italian operators to offer conveyorized washes, has all five of its locations in the north. The company bills itself as "The first American car wash in Italy" and attempts to entice consumers with images of gleaming cars traveling through tunnels and a comfortable-looking waiting room stocked with magazines and free Internet.
Even if the presence of eWash does suggest that Italy is following in the American industry's footsteps, the global recession has hit the country hard, slowing the industry's growth and development of new concepts. Italian unemployment rose from 6.2 percent in 2007 to 8.4 percent in 2011. This kind of unemployment hurts the industry in two ways. First, consumers are much less likely to spend what little money they have at the car wash. And second, car wash operators and consumers alike are less likely to invest in a new trend, such as the tunnel.
Mariotto of Starwash srl, however, is optimistic about Italy's economic future: "The economic storm … has strongly reduced investment in all sectors, including ours. Italy, unlike Spain, Greece and Portugal, has a robust economy, which was able to respond to the immense sacrifices" required by banks. If the banks resumed offering corporate credit, "you would see a rebirth and a reorganization of the sector."
INDEPENDENT OPERATORS VS. OIL COMPANIES
In addition to the poor economy, another factor that has shaped the Italian industry is the high number of car washes owned by oil companies. In fact, Vidakovich believes that "less than five percent of car washes are owned by independents," meaning non-gas station operators. The largest car wash retailer is the oil company ENI (formerly AGIP), but Giovanni Favagrossa pointed out that most of the retailers are smaller independent gas station operators with anywhere from one location to as many as 15.
Mariotto added that, "The oil company trend is in sharp decline partly because roll-overs, which are mainly installed in gas stations, have high maintenance costs and shorter longevity. We can say that private installations are taking a larger market share, and independents are on the rise."
In the face of a dismal economy, the Italian car wash consumers have kept the industry going, continuing to wash their automobiles about 10 times a year, according to MA-FRA CEO Marco Mattioli. Hopefully, the worst of the financial crisis is over, and the Italian market will recover from any losses endured in recent years. After all, for a country that gave birth to the cool luxury of Maseratis and Alfa Romeos, it seems just plain wrong that it shouldn't also enjoy a robust car wash industry that can evolve to meet their every car care need.
Source: https://www.carwash.org/car-wash-magazine/feature-stories/viva-l-italia