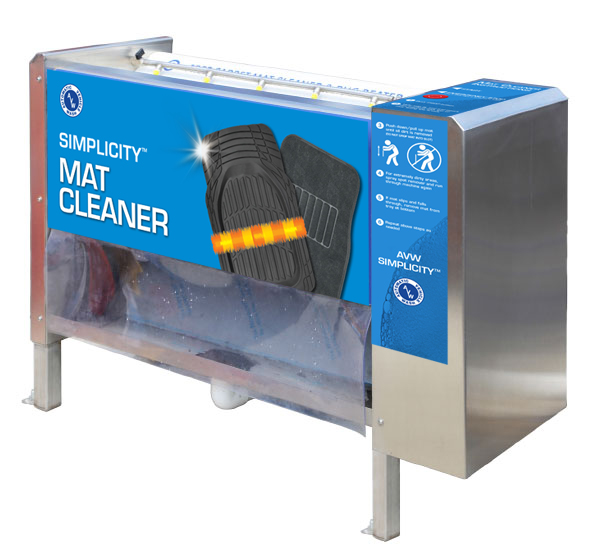 What do you call a clean car with dirty mats? A dirty car!
Whether you offer free self-serve vacuuming with your express wash or provide interior detail services, the AVW Mat Cleaner delivers clean mats for your customers. Mats are brushed and scrubbed quickly and easily (in minutes) removing summer sand or winter salt. And, the AVW Mat Cleaner accommodates a wide range of shapes and sizes, from flat mats to deep, laser-measured, floor liners.
Our mat cleaner is easy to operate. Customers simply push the start button, turn on the optional water spray, and lower/raise the mat in and out of the machine to clean the entire mat surface. Dirt, debris, and water drop and collect into the drained, easily serviced collection tray at the bottom of the unit. Built using stainless steel for durability, dependability and long-life, the AVW Mat Cleaner delivers an ideal add-on service that complements the other clean car services you provide.
Dry brush dirt out of flat carpet, plastic mats, and laser-measured custom floor liners
Wash salt and dirt out of mats and liners with the optional wet kit
Remove sand, gravel, dirt, snow melt, road salt, pet hair, grass, leaves, mulch, food, etc.
Red "mushroom" button e-stop is close to hands, next to the ON switch
Plate-activated safety relay turns unit off when hands are inserted into the mat slot
SPECIFICATIONS
Size: 35-5/8'' height x 18-5/8'' depth x 53'' length (90 cm x 47 cm x 135 cm)
Water: Standard 3/4'' Pipe with (5) x 1/4" FNPT half couplings with 05E80 PVDF nozzles
Weight: 280 lbs (127 kg)
Power: Single Phase, 110 Volt/7.6 A/60 Hz or 220 Volt/3.8 A/50 Hz
Electric Gear Motor: 1/2 HP, 1 Phase
Maximum Mat Width: 38"
Construction: Stainless Steel
Safety Features:
– Push button start, adjustable timed relay
– Emergency e-stop mushroom button and panic bar stop