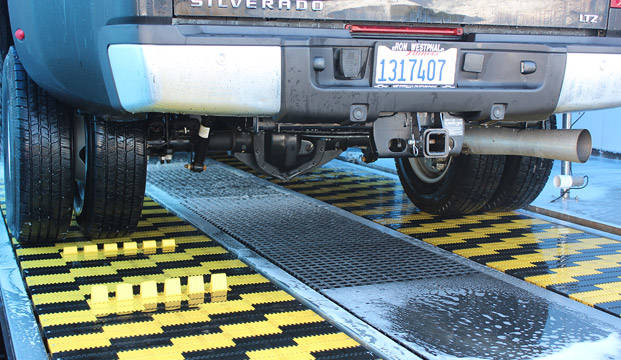 Belt Conveyors
Single Belt Conveyor
The Single 12" belt is designed to fit traditional conveyor pit dimensions to work in new construction of retrofit situations. One of the main benefits is fewer moving parts (no rollers, trap doors, roller up fork, etc.).
Dual Belt Conveyor
Dual 30 and 42″ belt conveyors are designed for more control of the vehicle when the driver is inside but less restriction on the type of vehicle being washed. Carrying all four tires affords more control; when the driver activates the brakes or turns the steering wheel, nothing happens.
144" (12') Express Detail Belt Conveyor
The 12' (144″) belt conveyor is designed for manually working on the exterior of a vehicle (hand washing and detailing). The belt stretches the full width of a car, and then some.
Sku Images
Part#
Description
Price
Add To Cart
BL1DC-2678
B.I.G. Gate (Blower Intake Gate) for Blower Producer

$

1,619.00
BRG-BR1-WB21516
Bearing, Pillow Block, 2-15/16", Belt Conveyor Drive Shaft

$

198.00
BL1A-C
Blower Arch (Penta)

$

2,474.00
BL1-IMP-CCW / BL1-IMP-CW
Blower Impeller, 10/15/20HP

$

779.00
BL1DK1
Blower Mounting Plate, 1/4" x 12" x 16"

$

133.00
BL0115D-NZ-PIV2396
Blower Pivoting Nozzle, Front-to-Back Pivot, for Plastic Blower Housing, SS, (Air Control Panel required, not included)

$

762.00
BCN3QU1
Idler (Return) Roller, Belt Conveyor, Support Roller Individual

$

25.60
BL1007DD
Plastic Blower Back Plate, 20-5/8" Dia.

$

136.00
CN1A-CPXB-0916
Proximity Sensor Target Collar (Belt Conveyor)

$

165.00
BCN1-RBG-0616
Return Belt Guide for Belt Conveyor, Steel Bracket, 3/4" SS Shaft

$

189.00
BL1D-NZ-2333-2
Round Blower Nozzle w/ Shorter Round Outlet

$

460.00
BCN1BS
Split Collar, 2-1/2 SQ, Sprocket Retainer (Belt Conveyor Shaft)

$

5.00
BR1BS
Split Collar, Sprocket Retainer, 42" Dual Belt and 144" People Mover, 3-1/2" SQ.

$

25.30
BCN3AD
Take-Up Drum, Steel

$

1,215.00